MANILA, Philippines –  Kiehl's Philippines' Made Better™ was formally launched as part of a week-long event at Greenbelt 5 in Makati City, on Thursday, July 18th, 2019. Together with celebrity twins, Mond and Richard Gutierrez, Kiehl's Philippines brought attention to the protection and conservation of marine life. Proceeds from the sale of limited-edition Made Better™ products will fund the preservation of Anilao, which Kiehl's Philippines is adopting as  its island beneficiary.
Made Better™ is a global campaign that spotlights environmental issues. It is Kiehl's commitment to create products that are naturally derived, sustainably sourced, and responsibly packaged and manufactured. Another pillar of the initiative is Kiehl's gives, the brand's philanthropic arm,  which allows Kiehl's to provide key opinion leaders with a platform to bring attention to their advocacies.
Made Better™ Event Launch
The event was hosted by lifestyle maven, Janeena Chan. Followed by opening words from Kiehl's Brand Director Kaila Nicdao, and Kiehl's Senior Product Manager Joan Hwang, guests were treated to the release of this year's Made Better™ campaign video featuring Mond & Richard Gutierrez.
"The time is now to make the world a better place for future generations of Filipinos by supporting sustainable efforts to conserve and preserve our most precious resource: our seas," shares Mond Gutierrez.
Saving Philippines with Mond & Richard Gutierrez

As part of Kiehl's commitment to a world #madebetter, we've partnered with Richard & Mond Gutierrez in an effort to preserve our seas. Together with Save Philippine Seas, we're adopting Anilao to educate and empower their locals to become good seatizens that do their part in practicing sustainability and marine life conservation.Watch the full video to find out more about this exciting collaboration!

Posted by Kiehl's on Friday, July 19, 2019
In the video, the twins discuss the many problems faced by our waters while sharing tips to create a sustainable future. In addition, the video highlights the efforts from Save Philippine Seas (SPS). Established in 2011, Save Philippine Seas is a registered non-profit organization determined to clean and protect marine life in the Philippines.
"Save Philippine Seas has three pillars: education, engagement, and empowerment. We want Filipinos to mobilize different initiatives for collective action and behavior change," said Anna Oposa, Chief Mermaid for Save Philippine Seas." As a Kiehl's user, I am really excited about the campaign. I really believe that the way forward to take care of the Earth is by working with different companies – like Kiehl's. Kiehl's is sincere in what they're trying to do, and they've created ambitious targets to achieve them."
Rejuvenate Your Skin and the Earth this July
Starting August, all Kiehl's Since 1851 stores nationwide will offer limited-edition Made Better™ variants of two beloved customer favorites:
Gentle ingredients such as Calendula Flower Petals and Great Burdock Root Extract are blended to cleanse and rejuvenate normal and oily skins. Each 125mL bottle of the Calendula Toner is made of 100% post-consumer recycled plastic.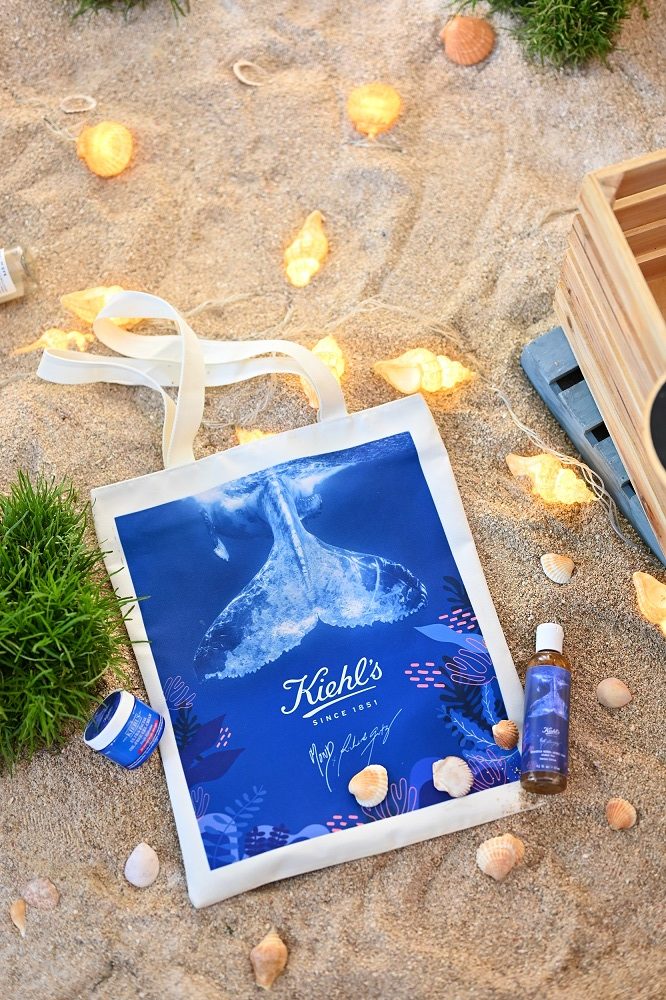 Ultra Facial Oil-Free Gel Cream 50ml
Experience 24-hour hydration with a lightweight gel moisturizer for oily and normal skins. Naturally-derived ingredients such as Imperata Cylindrica (Desert Plant Extract) and Glacial Glyocoprotien leaves the skin feeling instantly refreshed.
Each limited-edition bottle will feature art specially designed by the Gutierrez twins. The cover design is inspired by a stunning underwater photograph taken by Richard Gutierrez during a diving expedition.
"The fact that we get to use Richard's photographs for the cause is more meaningful for us," says Mond Gutierrez. "It's a firsthand account of really how beautiful the oceans are. So, that's what we wanted to highlight by using his photography as the backdrop."
Proceeds from each bottle of limited-edition Made Better™ products sold will directly fund Save Philippines Seas' and Kiehl's Philippines partnership to preserve Anilao.
"I do know that Richard is an avid scuba diver and Mond loves the beach," adds Oposa. "And as divers, we have a shared love for the sea. And we have a shared passion in making sure that in twenty to thirty years, we can still dive in all the beautiful sites in the Philippines."
Limited-Edition Calendula Toner 125ml (PHP 1,450) and Ultra Facial Oil-Free Gel Cream 50ml (PHP 1,750) are available starting August 2019 at all Kiehl's retail stores nationwide. Customers are encouraged to recycle their Kiehl's bottles at all stores. These bottles will be recycled into trash bins which will be deployed to Kiehl's partner barangay—Anilao. Three recycled bottles can be exchanged for a travel-sized sample of any product of their choice. For more information, visit Kiehl's Philippines on Facebook or Instagram @kiehlsphilippines or www.kiehls.com.ph/made-better. 
About Kiehl's Since 1851
We are dedicated to providing the most efficacious and personalized skincare solutions to everyone, everywhere; it's part of our "Healthy Skin Guarantee." Come visit our stores to get a complimentary personalized Skincare Consultation care of our expert Kiehl's Customer Representatives. True to our spirit of service, we are proud to offer you samples of our finest formulas so you can "Try Before You Buy."